Pickles, food, art, and more!
The deadline for vendor applications is Saturday, September 9, 2023.
Booth space is limited and applications are reviewed as they are received.
Do NOT call and ask us to "hold" a space!
You will be assigned the "best available" spot upon receipt of your contract with payment!
We intend to let you know within a few days of receiving your completed application whether or not you will be accepted to participate in the 2023 Cleveland Pickle Fest®.
Booth fees may be paid via DonorBox below or mail with a business check or money order. Personal checks WILL NOT be accepted. Please do not mail cash. A fee will be applied for all returned checks. If we do not receive your payment within 2 weeks of your approval email, your booth space will be forfeited.
Make your check payable to:
Greater Cleveland Volunteers
4415 Euclid Ave #200
Cleveland, Ohio 44103
Please remember that we limit both the number and types of vendors so that there will be the possibility for a greater profit for everyone, so the prompt return of your application is to your benefit.
Questions? Contact us at [email protected] or 216-282-4173‬.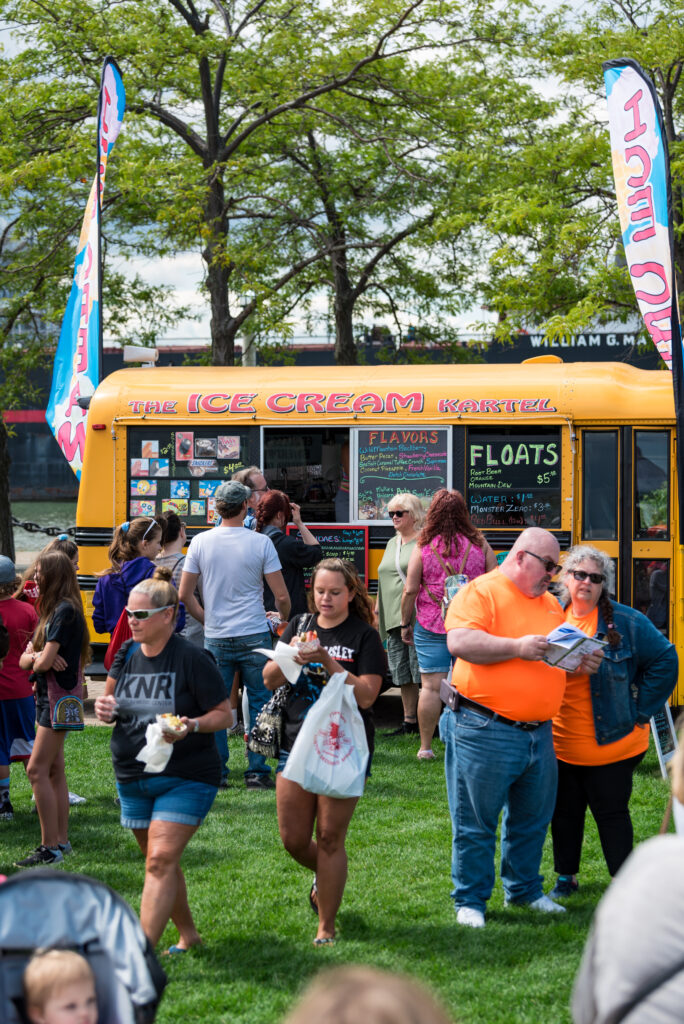 All vendors must bring their own tables, chairs, and tents with weights (no stakes allowed).
Please make sure to have your temporary event permit if you are selling food. Learn more HERE. Please submit food permits to Cleveland Pickle Fest by September 9, 2023 – [email protected].
Bold Pickins
Eat Pretty Darling
The Crazy Cucumber
Color Street-Fifty Shades of Glitter
Pop Culture CLE
Lutheran Metropolitan Ministry dba Metro45 Cafe
P&P Eggrolls
Backattack Snacks
Barrio Tacos
Galaxy Grill
NRG
Hippie Sips
Whiskey Dick's Pickle Co
Leaf Home Water Solutions
Mr. Crisp Pickle Co.
CASA (Court Appointed Special Advocates) of Cuyahoga County
The Olive Tap Medina
Rust Belt Vegan Kitchen/Belt Publishing
Haffs Hot Sauce
Raphael's School of Beauty Culture
Happy Pickler
Hospice of the Western Reserve
LinaBags LLC
Dina Colada's Cafe and/or Dina Colada's Face Paint
McGregor
Dik Whip
Randy's Artisanal
Samurai Dynasty
Crock'n CLE
Cleveland Kitchen
Uncle Val's Pickles
Home Environmental Services
The Brinery @TwoAcreFarm
The Pickle Chicks
Pretzel Revolution
Nicholas Games
Pickles' Pickles
Funny Times
AARP Ohio
UPS Foundation
Cleveland Water
Rumpke
RPM International
Check back soon!  More added weekly! 
Cleveland Pickle Fest® is a celebration of pickles and volunteerism in Cleveland. Volunteers are a BIG DILL. Proceeds from the event support Greater Cleveland Volunteers programs and services to volunteers and nonprofits in Cuyahoga County. In the first year, the festival attracted more than 16,000 people to Downtown Cleveland. The event included pickle companies, food trucks, restaurants, pickle items, and pickle beer. Pickle lovers enjoyed many different flavors of pickles, pickles on a stick, pickle pizza, pickle candy, and even pickle ice cream.
Copyright © 2022. Cleveland Pickle Fest® is owned and organized by Greater Cleveland Volunteers, a 501(c)(3) organization.