Cleveland Pickle Fest is no longer accepting vendor applications this year!

If you are an accepted vendor, and you still need to pay, please contact us at [email protected].
Pickles, food, art, and more!
The deadline for vendor applications is Saturday, September 9, 2023.
Booth space is limited, and applications are reviewed as they are received.
You will be assigned the "best available" spot upon receipt of your contract with payment!
We intend to let you know within a few days of receiving your completed application whether or not you will be accepted to participate in the 2023 Cleveland Pickle Fest®.
Booth fees may be paid via DonorBox below or mail with a business check or money order. Personal checks WILL NOT be accepted. Please do not mail cash. A fee will be applied for all returned checks. If we do not receive your payment within 2 weeks of your approval email, your booth space will be forfeited.
Make your check payable to:
Greater Cleveland Volunteers
4415 Euclid Ave #200
Cleveland, Ohio 44103
Please remember that we limit both the number and types of vendors so that there will be the possibility for a greater profit for everyone, so the prompt return of your application is to your benefit.
Questions? Contact us at [email protected] or 216-282-4173‬.
All Spice Merchants
Awesome Meaty Stick
Backattack Snacks/3 Elizabeths
Barrio
Bath Fitter
Bold Pickins
Branch BBQ Sauce Co
Cafe Avalaun
Celestial Treats CLE
Chocolate Moonshine Co
CLE Cotton Candy
Cleveland Ketchup Company & Glizzys
Color Street
Creepy Peep Creations
Crocheted By Alaina Rae
Dik Whip
Dina Colada
Em and Al's Candles
Feelin Good Ice Cream
Galaxy Grill Food Truck
Greater Cleveland Food Bank
Hippie Sips
Irie Jamaican Kitchen
Joyce Factory Direct
Kitchen Saver
Lang's Classics
Leafguard
Cleveland Grill
Metro45 Cafe
Micah Specialty Foods
Minglewood Distilling Co.
Mr. Crisp Pickle Co.
Mrs. Scott's Sweets
NRG
Ohio State Waterproofing
Ono Brew Cafe
Pickled Pink
Pop Culture
Preserve the World Vintage
Randy's Artisanal
Randy's Pickles
Roost
Sauce The City
Stray Dog, Big Blue Bbq Truck
Sweet Cedes Just Desserts
The Akron Pickle
The Benevolent Butcher
The Crazy Cucumber
The Dogs Bag
The Olive Tap
The Pierogi Lady
The Salty Hive Home & Body
Thrift2Gift
Urban Pickle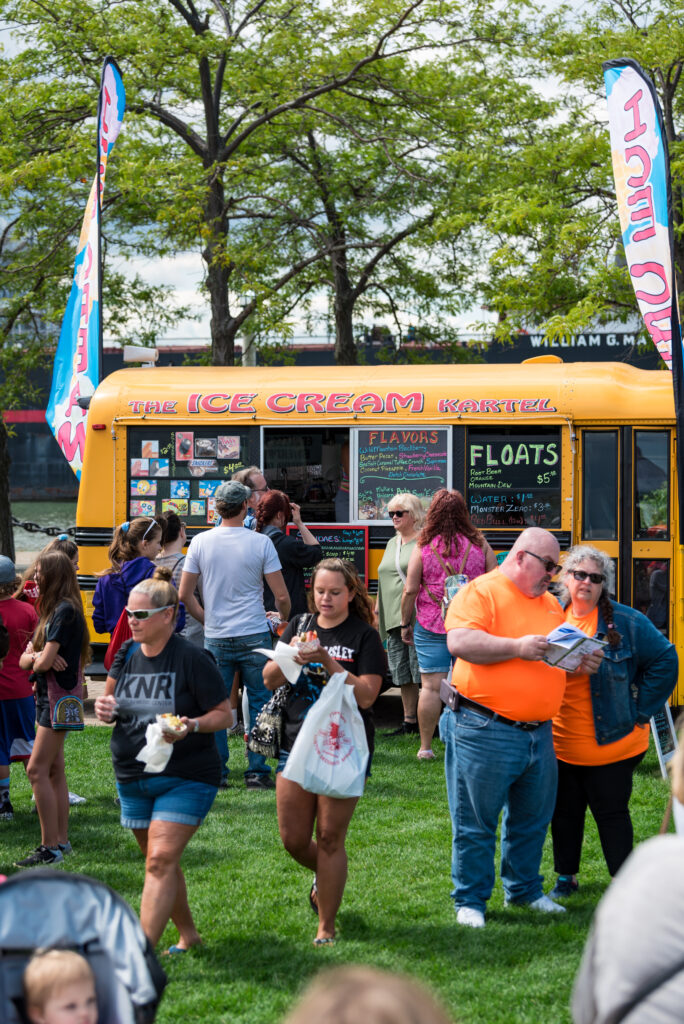 PLEASE FILL OUT APPLICATION BEFORE PAYING VENDOR FEE
All vendors must bring their own tables, chairs, and tents with weights (no stakes allowed).
Please make sure to have your temporary event permit if you are selling food. Learn more HERE. Please submit food permits to Cleveland Pickle Fest by September 9, 2023 – [email protected].
Cleveland Pickle Fest® is a celebration of pickles and volunteerism in Cleveland. Volunteers are a BIG DILL. Proceeds from the event support Greater Cleveland Volunteers programs and services to volunteers and nonprofits in Cuyahoga County. In the first year, the festival attracted more than 16,000 people to Downtown Cleveland. The event included pickle companies, food trucks, restaurants, pickle items, and pickle beer. Pickle lovers enjoyed many different flavors of pickles, pickles on a stick, pickle pizza, pickle candy, and even pickle ice cream.
Copyright © 2022. Cleveland Pickle Fest® is owned and organized by Greater Cleveland Volunteers, a 501(c)(3) organization.